Coverage Processor Tutorial¶
Welcome¶
Welcome to the coverage processor tutorial. This tutorial assumes that you have followed one of the quickstart tutorials.
Please ensure you have your IDE set up with access to the GeoTools jars (either through maven or a directory of Jar files). The maven dependencies required will be listed at the start of the in the pre-requisites.
This workbook introduces performing common operations – such as multiple, resample, crop, etc. – directly on coverage objects.
Image Tiling Application¶
The ImageLab tutorial covered loading and rendering coverages; this tutorial will demonstrate performing basic operations – such as crop and scale – directly on a coverage using the CoverageProcessor and friends, as well as use the Arguments tool to make command line processing a little simpler. We will be creating a simple utility application to "tile" a coverage (for the sake of simplicity simply subdividing the envelope) and optionally scaling the resulting tiles.
Running the application¶
Before we can run the application we'll need sample data. The Natural Earth 50m data will do nicely.
Running with an IDE¶
If you've been following along in an IDE then the built in run functionality is the easiest way to run our application. For example, in Eclipse we can select Run -> Run Configurations from the menu and create a new Java Application Config with the following configuration.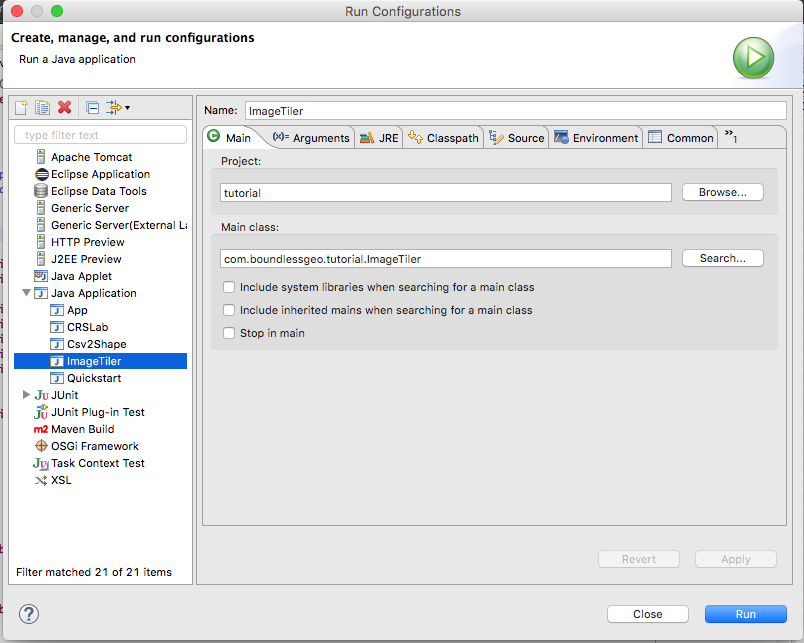 Under the Arguments tab we'll point our application at the downloaded raster data, give it a tile count of 16x8, output it to a temp director and scale the tiles by two.
-f /Users/devon/Downloads/NE2_50M_SR_W/NE2_50M_SR_W.tif -htc 16 -vtc 8 -o /Users/devon/tmp/tiles -scale 2.0
Be sure to replace the filename and directory with your own locations.
Note
If you're using Eclipse then these paths can be replaced by prompts. In the Run dialog choose Variables and use the file_prompt and folder_prompt variables.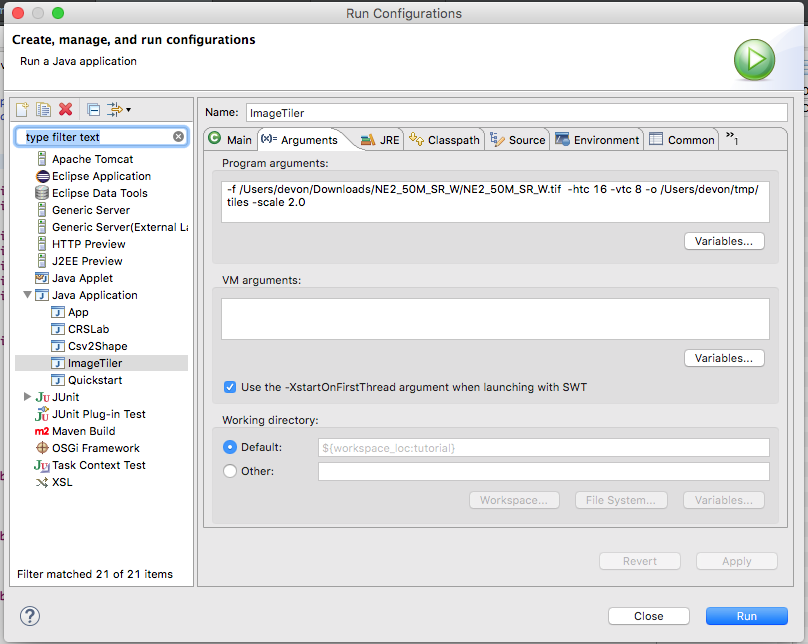 Finally, hit Run to run our application. You may see some warning/info messages related to ImageIO, but these are normal.
IDEs other than Eclipse, such as Netbeans and IntelliJ, have very similar options for running a Java application.
Running With Maven¶
If you're not using an IDE then the easiest way to run our application is to use the Maven exec task to run our application for us, as detailed in the Maven Quickstart. We simply need to add the Maven Shade plugin to our pom.xml
mvn exec:java -Dexec.mainClass=org.geotools.tutorial.ImageTiler -Dexec.args="-f /Users/devon/Downloads/NE2_50M_SR_W/NE2_50M_SR_W.tif -htc 16 -vtc 8 -o /Users/devon/tmp/tiles -scale 2.0"
Things to Try¶
See the Coverage Processor documentation for more information about the operations available on coverages. One of the operations available in the CoverageProcessor is Resample (see the Operations class), which we can use to reproject our coverage very easily. Try reprojecting the coverage into EPSG:3587 (Google's Web Mercator projection).

We can verify that our tiles look OK by loading them into the GeoServer ImageMosaic store. Alternatively we could programmatically create an ImageMosaicReader pointed at our directory files and read from it.