Running with an IDE
If you've been following along in an IDE then the built in run functionality is the easiest way to run our application. For example, in Eclipse we can select Run -> Run Configurations from the menu and create a new Java Application config with the following configuration.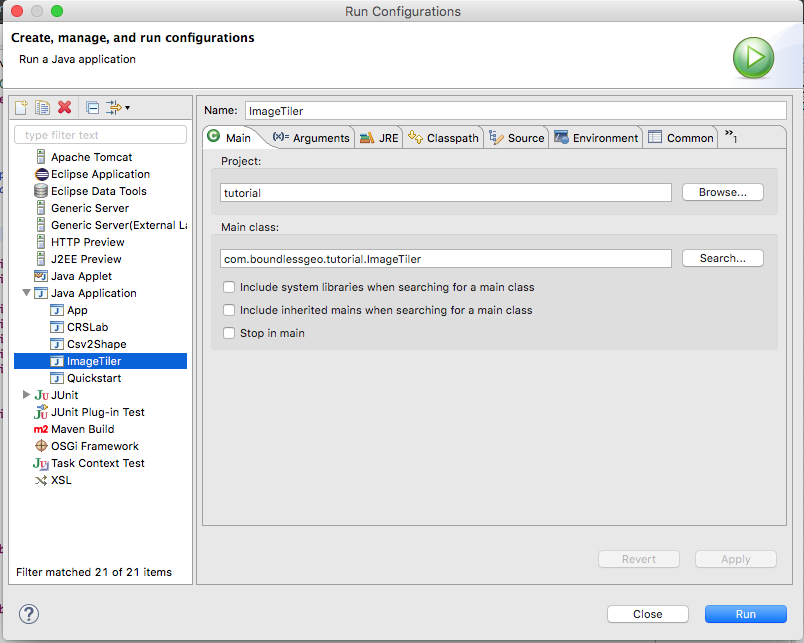 Under the Arguments tab we'll point our application at the downloaded raster data, give it a tile count of 16x8, output it to a temp director and scale the tiles by two.
Finally, hit Run to run our application. You may see some warning/info messages related to ImageIO, but these are normal.
IDEs other than Eclipse, such as Netbeans and IntelliJ, have very similar options for running a Java application.
Running With Maven
If you're not using an IDE then the easiest way to our application is to use the Maven exec task to run our application for us, as detailed in the Maven Quickstart. We simply need to add the Maven Shade plugin to our pom.xml
mvn exec:java -Dexec.mainClass=org.geotools.tutorial.ImageTiler -Dexec.args="-f /Users/devon/Downloads/NE2_50M_SR_W/NE2_50M_SR_W.tif -htc 16 -vtc 8 -o /Users/devon/tmp/tiles -scale 2.0"