Geometry¶
To create a Geometry object we make use of the GeometryFactory provided by JTS. GeometryFactory has a bunch of create methods that take Coordinate instances (and arrays) and wrap them up in the appropriate instance of Geometry.
The OGC Simple Features for SQL specification implemented by JTS works with Point, LineString and Polygon.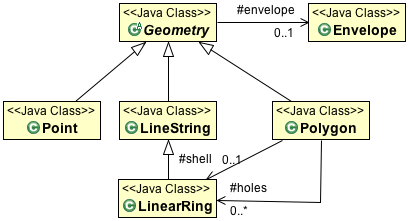 Each Geometry can be contained in an Envelope (acting as a bounding box that contains all the geometry coordinates).
The OGC Simple Feature for SQL specification also provides support for GeometryCollections. GeometryCollections are themselves considered a Geometry.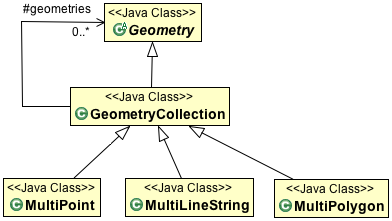 You can create your own GeometryFactory with a specific PrecisionModel and CoordinateSequenceFactory.

Note
These "advanced" configuration options are interest if you need to take charge of how the coordinates are stored (perhaps as floats rather than doubles?) The two concepts work together: if you are storing your coordinates in an array of floats, then JTS only needs to consider float precision during calculations.
The GeometryFactory created by default works just fine.
GeoTools extends these core Geometry classes to allow support for curves. These implementations generate coordinates allowing them to act as normal JTS Geometries (as required for JTS Operations).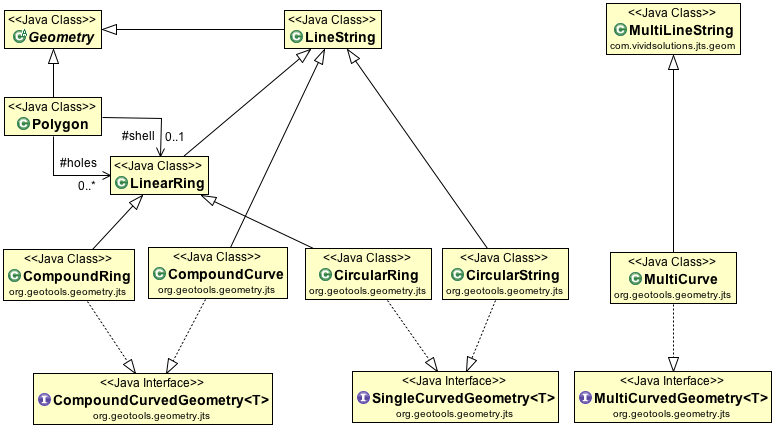 The linearization process used to generate coordinates makes use of the control points defining the curve and a tolerance provided by a CurvedGeometryFactory.