Symbology Encoding¶
The GeoTools rendering process is controlled styling information that you provide. The data structures we use to describe styling are based on the Style Layer Descriptor (SLD) and Symbology Encoding (SE) specifications provided by the OGC.
These specifications define an XML document you can use to save and load your styles on disk, we use the same data structure internally to control the rendering process.
References:
FeatureTypeStyle¶
The Symbology Encoding specification provides us the FeatureTypeStyle which is focused on how to draw features in a manner similar to CSS.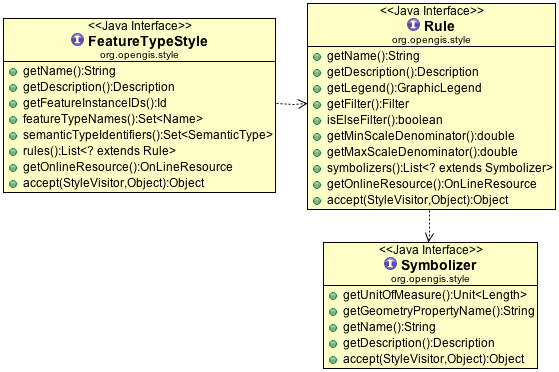 The key concepts for symbology encoding are:
FeatureTypeStyle: captures the recipe for drawing a specific kind of feature

Rule: used to select features for drawing, using a list of symbolizers to control the actual drawing process.

Symbolizer
StyleVisitor¶
A style visitor is defined allowing you to traverse the style data structure. For details on the use of a visitor please review Filter on the subject.
StyleFactory¶
Objects for symbology encoding are created using a StyleFactory:
org.opengis.style.StyleFactory sf = CommonFactoryFinder.getStyleFactory(null);
FilterFactory2 ff = CommonFactoryFinder.getFilterFactory2(null);

Fill fill = sf.fill(null, ff.literal(Color.BLUE), ff.literal(1.0));