This section also introduces some of the interesting GeoTools specific extensions that have been created.
This style of programming is available when working with symbology encoding data structures such as Rule.
Symbolizer

GeoTools extends the concept of Symbolizer allowing the geometry to be defined using a general Expression (rather than just a PropertyName references). This facility allows a geometry to be defined using a Function expression giving users an opportunity to preprocess the geometry.
TextSymbolizer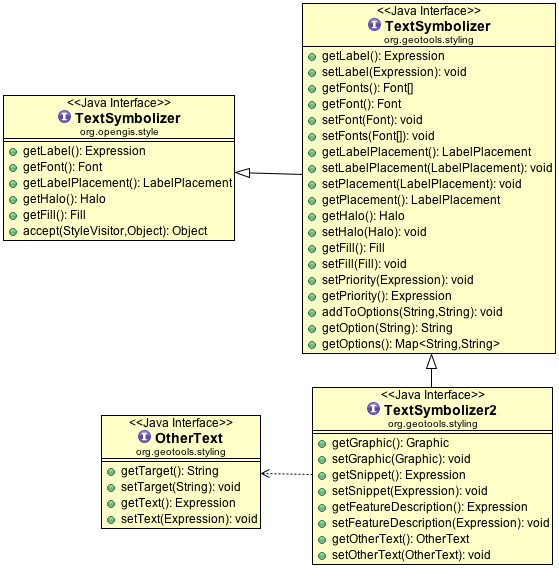 GeoTools extends the concept of a TextSymbolizer allowing:
TextSymbolizer.getPriority()

Priority used to determine precedence when labels collisions occur during rendering. The label with the highest priority "wins" with the others being moved out of the way (within a tolerance) or just not displayed.

TextSymbolizer.getOption(String)

Additional vendor specific options used to control the rendering process.

TextSymbolizer2.getGraphic()

Graphic to display behind the text label

TextSymbolizer2.getSnippet()

Used by text renderers such as KML and RSS to specify a snippet of text.

TextSymbolizer2.getFeatureDescription()

Used by formats like KML or RSS to supply info on a feature.